Team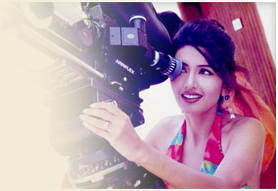 We at
DB Productions
are home to a group of self motivated individuals and creative thinkers who are well versed in the fields of casting, concepting, film making, post production, technical research and the like. With a new approach to each project, we are able to understand the precise thought flow of the viewers and provide ideal creative solutions to the television channels.
Under the leadership of the vivacious and enterprising duo Ms. Deepti Bhatnagar and Randeep Arya, the company has excelled over the years. Ms. Bhatnagar has had the opprtuity to work with some of the the top notch industry professionals over numerous projects. These include a widespread experience in Commercial Advertising, Television to name a few. Her personal experience in the field of fashion, commercial advertising, cinema and anchoring enable the company to conquer each milestone with zest and passion.
We also take pride in associating ourselves with other experienced professionals as per the requirement of the project that include Production Designers, Production Supervisors, Production Managers, Production Accountants, Locations Managers, Cameramen, Art Directors, Directors, Cinematographers, Still Photographers, Lights and Grips Professionals in the entertainment industry from all over the country.