About Deepti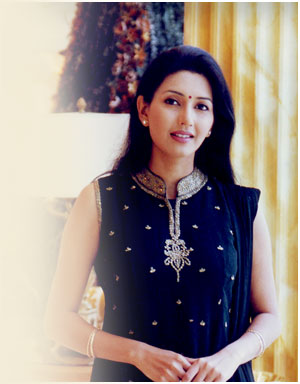 Born on the 30 September, Deepti Bhatnagar, first moved to Mumbai in 1991 to promote her handicrafts factory in Meerut. In the early stages of her career, Ms. Bhatnagar won the Eves Weekly Miss India contest in 1990. Soon after, she ventured into modeling in Singapore for a number of international fashion shows.
She has worked with leading brands, production houses, casting agencies and clients on numerous projects across the globe. Her credits include a host of national and international advertising campaigns for brands such as Fair & Lovely, Siyarams Fabrics, Onida Washing Machines, Sunsilk, Vimal Sarees, Colgate, Anne French and many more. With increasing populatiry on television, Deepti also ventured into cinema as an film actor from 1994. She has been a part of numerous films that include Ram Shastra (1995), Telgu film Pelli Sandadi, Humse Badhkar Kaun, Qaher, Kalia, Mann, Dulhan Banoo Main Teri, Chori Chori Chupke Chupke, Rok Sako To Rok Lo and many others.
She tied the knot with Mr. Randeep Arya in 1997, and established
'Deepti Bhatnagar Productions Pvt. Ltd.
'. With a bright beginning and a team of 20 individuals,
DB Productions
is progressing ahead with a streamlined focus on Indian and Global television.
Come 2000, Deepti involved herself in the production of 'Musafir Hoon Yaaron', an India based international travel show; a religious travel show called 'Yatra'; and a television serial called 'Kabhi Aaye Na Judaai'. Since the company's inception, there have been numerous other prominent projects that the
DB Productions
has produced for various television channels.
Besides her work and organized schedules, Deepti loves traveling in India and across the globe. When she is not at work, it is her sons Shubh and Shiv that keep her vivacious, lively and appreciating life with all its beauty.