Projects
Show: Exotica
Channel: Star One
Concept :
Most travel shows focus only the destinations of interest. Exotica was visualized as a travel show with a difference. The real travel and journey to the destination is the epicenter of the show. Emphasis shall be given on destinations en route to the destination. It shall cover numerous modes of transportations; give viewers imminent travel tips, facts and figures as well. The show was hosted by fun-loving, freewheeling, daredevil girl Kim Jagtiani. The 30 minutes show offers exotic Indian locations with a luxury as well as a backpacker's approach to the destination. From Manali to Leh, Sikkim to Arunachal and Rajasthan to Kerala many more interesting locales, exotica has been a Sunday morning must see for viewers.
Show: Shaadi Street
Channel: Star One
Concept :
Envisioned from a street in Benares, India, Shaadi Street is a vibrant and colorful by lane of the small town that offers everything related to the celebration of a traditional Indian wedding. Amongst the array of jewelers, boutiques, match makers to caterers and florists reside two families the Chaudhurys' & the Thakurs' who are always at logger heads with each other. The street witnesses the love story of two young lovebirds that are unaware of each others background.
Engulfed with myriad characters, the story goes through numerous twists and turns as each individual plays a vital role in this seemingly ill-fated love story. It truly is the story of revenge, hatred, misunderstandings and finally the triumph of love over all evil.
Show: Buniyaad (The Re-release)
Channel: Sahara TV
Concept :
One of the most sought after projects, Buniyaad is the popular original series aired on Doordarshan. Gaining exclusive rights to the re-release of the show, it was one of the most successful shows to be aired today. Buniyaad is the story of a school master who leaves his material possessions and moves with his family from Pakistan to a refugee camp due to adverse conditions during the great Indian partition. It is an epic drama of how true values triumph over material temptations. With a star cast of renowned actors, it is a milestone achieved successfully.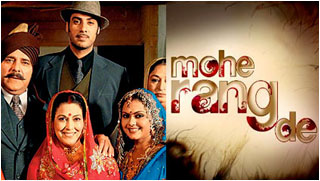 Show: Mohe Rang De
Channel: Colors
Concept :
'Mohe Rang De' is a period drama set against the backdrop of the India's struggle for independence in 1942, when the Quit India Movement was in full momentum. The show witnesses the upheaval of a country trying to achieve its freedom whole it entwines two different individuals Rajbir and Kranti who have different ideologies about life. While Rajbir prefers serving the British, Kranti is a devout revolutionist, with the motto of revolting against the British and driving them out of her motherland. When these two people meet, their life takes a new course of hardship, challenges and love.
Show: Main Kab Saas Banungi
Channel: Sab TV
Concept :
The mother in law & daughter in law relationship is always judged as a strained one. But get ready to be overwhelmed with joy and oodles of laughter as Main Kab Saas Banungi takes you on a different path all together. The show is a saga around the aspirations of a "Bahu" to occupy the power throne of the house by becoming "Saas". In a good humored manner, the show throbs with her fond fantasy to progress to an upper level of the pedigree, the so called "Saas", a title that automatically bestows the right and authority to rule over the hapless "Bahu". Full of laughter and a cast that completely does justice to the roles, viewers have to be prepared for fun and entertainment all packaged into one show.
Show: HumSafar
Channel: Zoom TV & Zing TV
Concept :
HumSafar is a unique celebrity travel show which features famous personalities mainly celebrity couples who travel to international destinations. The celebrity takes his / her partner on a romantic and adventurous journey to an exotic destination. It is their time off from their hectic work schedules as they wander away to a global holiday destination.
Show: Malegaon Ka Chintu
Channel: Sab TV
Concept :
Comedy being one of the most popular genres on television, Malegaon Ka Chintu is a silent comedy series based on a character named Chintu. He is a lively young man who lives in Malegaon and loves only three things in life; his coat, bicycle and Pinky, the most beautiful girl in town. He is full of life and has a heart of gold; besides he is very emotional and cannot see anyone in trouble. The show takes the viewers through different situations in Chintu's life that make for a laughter riot.